Endlich ist es wieder da das SUMMERJAM 2023!
Wir freuen uns riesig: Was gibt es derzeit Wichtigeres als die Bedeutung von "The Spirit of Peace".
Das Summerjam Festival ist in Europa das größte Reggae, Hip Hop und Worldmusic Festival. Seit 1986 findt es jährlich am ersten Juli-Wochenende statt. Unter einem wechselnden Motto tritt jedes Jahr eine Vielzahl an Künstlern aus der weltweiten Reggae-, Dancehall- und Hip Hop-Szene auf.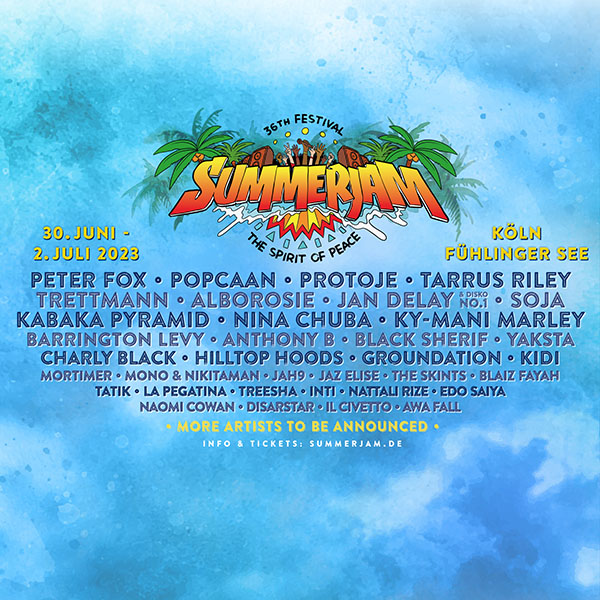 The Spirit of Peace – Summerjam 2023
Das Besondere an dem Festival: Es ist jedes Jahr erneut ein aufgeschlossenes, multikulturelles und weltoffenes Festival mit einzigartiger Location.
Direkt am Fühlinger See treffen sich bis zu 35.000 Menschen, um ein Wochenende gemeinsam karibische Vibes & fette Beats – Reggae, Hip Hop und Worldmusic zu genießen. Hier gibt es einen Überblick über Preise, Camping, Künstlerinnen und Künstler sowie Besonderheiten.
Summerjam Festival 2023 Line Up
Bisher sind folgende Künstler*innen für Summerjam Festival 2023 bestätigt. Headliner sind Peter Fox, Popcaan, Protoje, u.v.m.
Alborosie
Anthony B
Awa Fall
Black Sherif
Charly Black
Disarstar
Edo Saiya
Groundation
Hilltop Hoods
Il Civetto
Jah9
Jan Delay
Jaz Elise
Kabaka Pyramid
KiDi
Ky-Mani Marley
Mono & Nikitaman
Mortimer
Naomi Cowan
Nattali Rize
Nina Chuba
Peter Fox
Soja
Tarrus Riley
Tatik
The Skints
Trettmann
Yaksta
---
Festival Tickets gibt es direkt auf der SUMMERJAM Website oder über Eventim und weitere Ticket Anbietern.